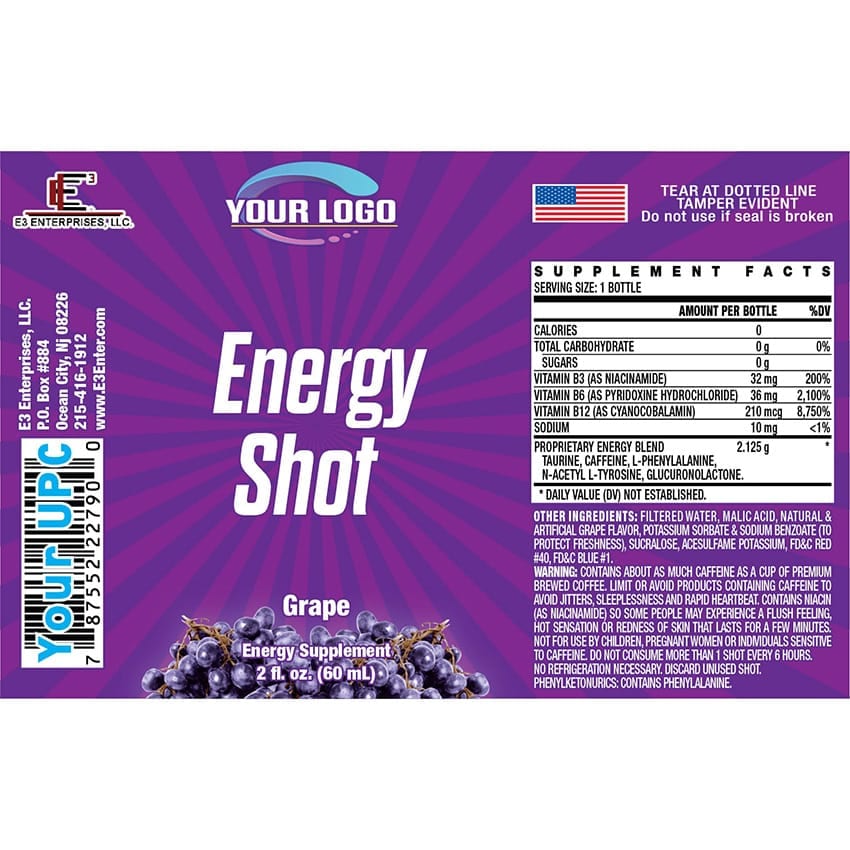 Allow us at E3 Enterprises, LLC, with over 30 years Experience to do: The most Amazing Private Label 2oz. Super Shot or—12oz. Slim Can on the planet—Its as simple as 1,2,3,4….
Give us the Name of your Product and (Flavor)…. ENERGY SHOT (Grape)
Pick your Background Color (full color process photo quality)
Set up and send your Barcode
And we do the rest… Your finished 2oz. Super Shot product will show up in a 12 count with header panel; point of sale display box and packed out 48 bottles to a master case! One Price Includes Artwork, Labels, Master Cases, Etc…
E3 Enterprises, LLC. has a firm understanding of trending and consumer's needs. This intelligence is passed on to our clients by providing turnkey private label solutions and products, of the highest quality.
Today's environment requires that regulatory and quality issues be met at every level. This, of course, requires a high level of oversight.
E3 Enterprises, LLC. provides this quality within all of its private label services and solutions. We correlate this to clients thereby producing and launching products cost effectively and in a timely efficient manner.
"From Concept to Success"
LET US BE THE PARTNER BEHIND YOUR PRODUCTS
One fact is guaranteed; when you partner with E3 Enterprises, LLC., you can rest assured that our company has a proven and well-established track record of success. Our products are in tens of thousands of outlets across the globe. We have numerous satisfied clients that continue to let E3 Enterprises, LLC. be "the partner" behind their products. 
OUR SERVICE RECORD IS IMPECCABLE
Our expert team provides an unrivaled level of service to our customers. This E3 Enterprises's team strives to ensure that your product fully meets your specifications, budget and timeframe. "Bringing all your Nutritional Ideas to Life"